Counseling Locations in the Pikes Peak Region
 
559 E. Pikes Peak,  Colorado Springs, CO  80903
PLEASE NOTE:   SCORE has relocated its office and workshop location effective April 1, 2015.    We are excited to announce our relocation to the downtown Catalyst "Innovation" Campus. Our offices are located in the three-story building behind the Railroad Depot at 559 East Pikes Peak, Suite 101 (first floor), with office and meeting space inside the same suite. Most of our workshops will be held in Suite 101, and from time to time we may use other meeting space on the Catalyst Campus. Parking at the campus is free--just look for the visitor parking signs. .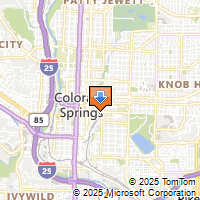 Our office hours are from 9-12 a. m. and 1-4 p. m., Monday through Friday, except for holidays. 
We also offer counseling at Woodland Park, Leadville, and in the Tri-Lakes area  (call for appointment at numbers listed below)
=====Woodland Park SCORE    210 East Midland Ave Greater Woodland Park Chamber of Commerce.  Woodland Park, CO 80863                    
Get Directions            Call for appointment:   719-687-9885
=====Tri-Lakes area SCORE    
166 Second Street Chamber of Commerce Building,  
Monument
,
CO
80132
=====Leadville SCORE    
400 Harrison Ave Suite 100.  
Leadville
,
CO
80461
  
=====SCORE has two other Colorado offices:
Pueblo SCORE Chapter 110
Chamber of Commerce, 302 N. Santa Fe
Pueblo, CO 81003
PHONE: (719) 542-1704  
Denver SCORE Chapter 062    (including branch offices in Steamboat Springs and Grand Junction)
US Custom's House,SBA, 721 19th Street, Suite 426
Denver, CO 80202
PHONE: (303) 844-3985